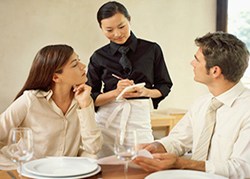 Las Vegas, NV (PRWEB) July 15, 2013
According to the Las Vegas Convention and Visitors Authority 2012 Visitor Profile study, one-half (47%) of all first-time visitors said their primary reason for visiting Las Vegas was vacation or pleasure with 8% stating they came primarily to gamble. Among repeat visitors, 43% came for vacation or pleasure, 39 million people visited Las Vegas in 2012, and its safe to say that the majority were seeking comfort, sustenance, pleasantness, entertainment, amusement, and enlightenment.
I would argue that there is a deep and compelling relationship between hospitality and spirituality and that Las Vegas, despite its long-standing reputation as sin city, is ground zero for understanding how spirituality can positively effect hospitality business results.
Hospitality, true hospitality, is emotionally powerful. It touches something very deep in usour profound human longing to be cared for, to be appreciated, to be valued and respected, and to have our needs and wants met. Hospitality has the spiritual power to enrich the guest, the employee serving the guest, and ultimately the company.
There is an emerging and accelerating call for spirituality in the workplace. Companies such as Taco Bell, Pizza Hut, Aetna International, Big Six accountings Deloitte and Touche, and Law firms such as New Yorks Kaye, Scholer, Fierman, Hays & Haroller have all implemented strategies and tactics to develop spirituality in the workplace. These companies realize that their employees spend the vast majority of their waking hours at work and that these employees are often seeking a deeper sense of meaning and fulfillment in their job.
There is compelling evidence that workplace spirituality programs not only lead to beneficial personal outcomes such as increased work satisfaction, and commitment but that they also deliver improved productivity and reduce absenteeism and turnover. From a management, leadership, and organizational perspective, spirituality could be the ultimate competitive advantage and Las Vegas hospitality organizations are in the perfect position to lead the way.
In order for spirituality in the workplace strategies and tactics to be successfully implemented, there are two things that must be done to lay the groundwork:
1.